Facilities
Research Laboratories and Facilities:
The department of Zoology has well-equipped laboratories for conducting experiments in Environmental Science, Molecular Biology, Biochemistry, Microbiology, Histology, Histochemistry, Vermicomposting and waste management, Ornamental fish rearing, Arachnology, Pollination biology and Lepidopterology. In addition, we have two labs for conducting conventional anatomical studies, both for MSc and BSc students. We have a research lab too. A number of our MSc and BSc students do their projects in our laboratories.
The faculty of the department continuously pursue research in their own  specialization area
Ms. Rima Joseph – Pollination Biology, Endocrine Disruption
Dr. Elizabeth V. Mathew-  Arachnology-Taxonomy 
Dr. Revathy V. S. – Lepidopterology- Butterflies of Kerala
Major Equipment:
Stereo microscopes, Phase contrast microscopes, Compound microscopes, Dissection microscopes, Spectrophotometer, Conductivity meter, pH meter, Electronic balances, Hot air Oven, Centrifuges, Microtome, Haemocytometer, Haemoglobinometers, Camera Lucida, Egg  incubators, 8 Computers with internet facility, LCD projector with the laptop for seminars and ICT-enabled classes.
Our MSc Zoology students have been utilizing the facilities of our laboratories to do their MSc Projects in Zoology. The faculty have applied for converting this into a research center of M.G.University and 2 faculty guideships. Applications are also given to MoEF to convert this into a taxonomic center for lepidopterology Department aims for this to bloom into a center for excellence in life science and environmental science studies.
Library:
The Department has a small library of around 1000 books including text and study material for undergraduates. Many of the books are foreign editions authored by well-known international authors, and hence very expensive for students to buy personally. In order to facilitate their use by our students, we photocopy them (2 or 3 copies) and have them spiral-bound. The originals are kept in the library for reference in the Department. The student can, however, take the spiral-bound copes home or to their hostels for reading. This is one area which we want to make more extensive by acquiring several more International Text Books and Manuals for the use of students and faculty. The Department subscribes to three scientific journals and 40 e-journals in the college library.
Internet Connections:
24 hours Broad Band Internet Connection is available.
Zoology Association:
Zoology association consists of students of 2 MSc and 3 BSc classes. The association is led by assistant prof. Elizabeth V. Mathew. The activities aim at overall personality development and blooming of their talents in academic and cultural aspects. The association is inaugurated with the arrival of the first PG and first ug students. They have their programs every Fridays for a long interval.
The students host academic programs like science quizzes, seminars, awareness programmes, and cultural events like the voice of dept, Onam and Christmas programmes. Annual day is also conducted inviting the alumni and retired faculty.
The students also participate in intercollegiate programs and interdepartmental programs and have won many prizes. The annual day is conducted on the 2nd Saturday of February when present students and alumni get together to have a time of reminiscence, a variety of entertainment and lunch.
The students of the department have participated in extension activities of the dept.
1. Saastra Padam and Sastra Jaalakam- science workshops conducted in the dept labs for IXth std and XIth std students. BSc zoology final years took the lead role in workshops.
2. Kerala biodiversity post-flood survey and training. Students attended training and surveyed the biodiversity loss of 5 panchayats in Aluva.
3. Kerala govt. Pollution control board post flood survey and analyses. Students attended training and analysed the soil and water samples for the board.  The pollution status in Aluva after the flood.
4. Department extension activities- nutritional and health education in students of schools and colleges by BSc zoology third-year students.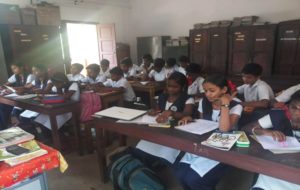 Extension Program – Nutrition Education Survey in Schools
Museum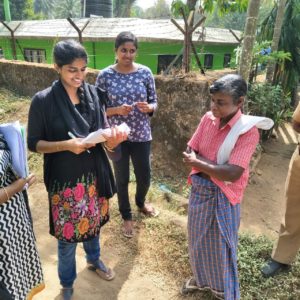 Survey by students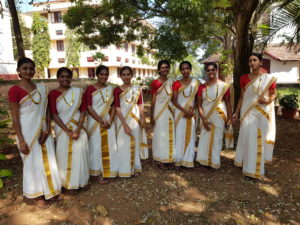 Arts festival- Zoology students performing Thiruvathira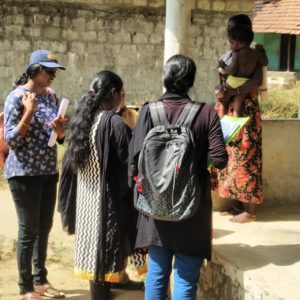 Biodiversity Survey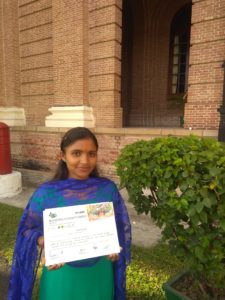 International Biodiversity Congress at Dehradun

Japanese Students training in aquarium setting and management