About Us
The Department of Zoology aims at imparting the best possible education to the students in the field of Zoology and Life sciences. Started primarily as a teaching Department, we have entered into the realm of full-fledged research at the Master's and Doctoral levels. We are also committed to enlisting the services of expert teachers and researchers, of national and international repute, to facilitate the education of our students and to enhance the capabilities of our younger faculty members by example. Our goal is to develop our Department into a Centre of Excellence with respect to its teaching and research capabilities.
We offer two teaching programmes, namely, BSc Zoology and MSc Zoology. In addition, we have facilities for Research at the Master's and Doctoral levels. At present, 6 permanent faculty and a guest faculty are involved in the teaching of the two programmes. Our objective is to enlist experts in the various fields to teach the respective subjects to our students.
The Department was established in 1969 to offer the subject of Zoology to the Pre-Degree and Undergraduate Subsidiary students. BSc Zoology was started in 1980 and MSc Zoology in 2013. Research at the PhD level started in 7th September 2019.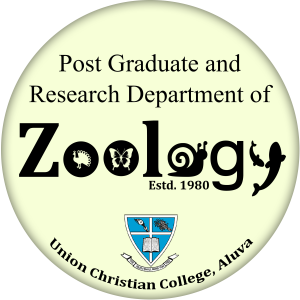 MISSION STATEMENT
'Impart the best possible education to our students and to develop the Department into a Center of Excellence in teaching and in research'